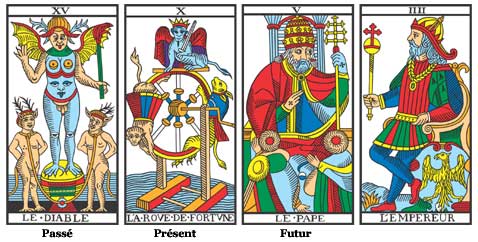 Comments: All the cards are upright: a good sign. The three first cards drawn add to 30, and she mentioned 30 years. Also, all three of these cards contain three figures!
In the past : The Devil describes an unpleasant mental situation which is an illusion. This card represents also the head of a school, who persuaded her that she had a problem with numbers. He attached her to that vision of herself, conditioning her to incompetence with handling numbers.
In the present : The Wheel of Fortune speaks of control that she can take over her life, and that she is able to pass from the Devil to the Pope. Like the Sphinx at the top of the Wheel, she has the sword of power in her hand and can leave this problem behind: the Wheel, which besides resembles an abacus.
In the future : The Pope speaks to us of transmission. He is regarding The Emperor: someone who brings their ideas into reality. Brigitte must take action to transmit to others the understanding she has gained of herself, to help them surmount their own obstacles.
Finally, The Emperor represents someone who knows how to count, who is at ease in the material world.
During dialogue with her, she said, "when I was young, I was always the smallest, and I always had the sense that I didn't count…" She simply needs to learn and then pass along to others: how to count.