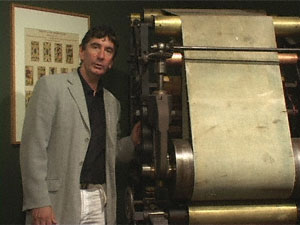 Philippe Camoin et la machine à imprimer à 4 couleurs
Cette machine à 4 couleurs allait changer l'Histoire du Tarot au XXe siècle en fabriquant un jeu de Tarot de Marseille aux couleurs non alchimiques. Les tarologues du XXe siècle crurent que les couleurs de ce jeu étaient les bonnes et basèrent leurs enseignements sur ce jeu aux couleurs erronées.
Cliquez ici pour plus d'infos
You will find in this section documents on the Camoin House and on Nicolas Conver, master cardmaker of Marseilles, who founded the Conver-Camoin factory in 1760, and also on the master cardmakers and their know-how, and various documents on early tarots and the history of Tarot.