The Camoin House: Master Cardmaker in Marseilles since 1760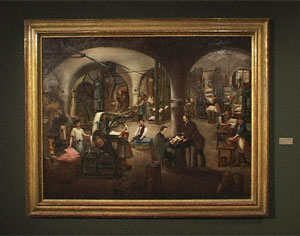 Scene depecting the Camoin Factory in 1861
Founded in 1760 by Nicolas Conver who in the same year engraved his famous Tarot de Marseille, the Conver Factory became by marriage the Camoin House. It prints decks which are distributed all over the world: at the beginning of the 20th century, more than a million decks a year. Other than their flagship deck, the Nicolas Conver Tarot de Marseille, it produces many diverse tarots and exports Chinese, Italian, and Egyptian decks. The factory took over the African market and had a virtual monopoly in the Spanish card market.
Now, Philippe Camoin, heir to this tradition, in collaboration with Alexandre Jodorowsky, continues this tradition in rebuilding the Tarot de Marseille after a scientific labor of many years.
The Camoin House is the last representative of the ancient brotherhood of master Marseillan cardmakers.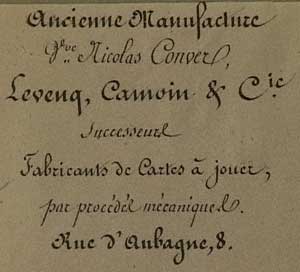 Document datant de la fin du XIXe siècle
The Camoin playing card factory was founded in 1760 in Marseilles by Nicolas Conver, Master Cartier, who possessed the wisdom of much earlier masters such as François Chosson (1672). In the 19th century, the Camoin House gathered the cultural heritage of the other master cardmakers of Marseilles and became thus the last guardian of this cultural heritage.