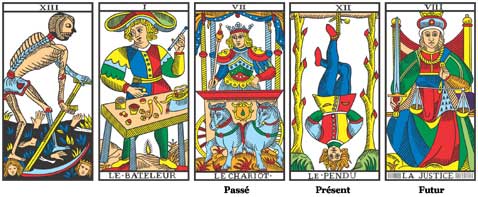 Comments: It is rare that so many cards are upright: there is no problem ! The question is about Osteopathy, which is about rebalancing the body, working with the skeletal structure. As it happens, the first card shows us bones, and the last describes balance… additionally, The Juggler is a card that represents work. What The Juggler regards is the work that he does. Here, he is looking at the card with no name, which is related to bones. A rope appears in the two final cards, from attachement towards liberation. It is interesting to note that VII+I= VIII and that XII+I= XIII
In the past : That which The Chariot regards succeeds: The Juggler, who regards Arcanum XIII. This indicates success on the material plane (VII) of the work (I) with bones (XIII). One can also say that The Juggler is regarding the skull of the skeleton! What the Tarot is telling us is clear: it is a good time for cranial osteopathy….
In the present : The Hanged Man indicates that the situation is frozen for the moment, that this is not a problem, since the card is upright. Sometimes one has to wait a little so that everything can go smoothly in a future project.…
In the future: The situation is unblocked, Justice shows us, as she cuts the rope holding the leg of the Hanged Man. This is also the representation of a woman who perseveres.