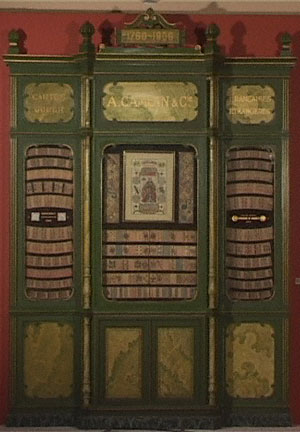 Meuble Camoin de l'exposition universelle de 1900
Ce meuble a été fabriqué en 1900 à l'occasion de l'Exposition universelle. Il renfermait des échantillons de jeux fabriqués à l'époque.
From 1760 to 1971, the history of the Camoin family parallelled the final saga of the Master Cartiers of Marseilles. In the 18th century Nicolas Conver appeared in the city's circle of card manufacturers.
The then-flourishing industry began to decline in the 19th century. Only two card-masters survived, one of whom was Jean Baptiste Camoin, successor to Conver in 1861. With the arrival of the industrial era, mechanical methods began to take the place of craftsmanship. By 1878 the factory of Jean Baptiste Camoin was the only one left. Fifty-five workers were employed in the Rue d'Aubagne workshop: state-of-the-art tools allowed them to produce more than a million games per year for French and foreign production. The factory gained 45% of the national market. Later his son Antoine took over, and the workshop, which had become too small, was left for a factory in Marseilles' Capelette section in 1886. The factory took over the African market and had a virtual monopoly in the Spanish card market. Sales to countries all around the Mediterranean - Algeria (its most important client), Egypt, Turkey and Tunisia - caused the factory to triple its production.
At the beginning of the 20th century, the factory's market was worldwide. The Camoin signature was found among others on Lebanese, Syrian, Indochinese, Saigon and Singaporean cards. Bangkok became one of the best Oriental clients. A Silver medal at the Universal Exhibition in 1900 and a degree from the colonial show in 1906 confirm the work's quality and the economical growth of the business. Then World War II, the loss of Indochina, followed by Morocco and Algeria, foreign competition and the prohibition of games in the Far East brought the factory into decline. However, the Camoin House continued its activities. But following the death of Philippe Camoin's father, the factory closed in 1971. At this time the family bestowed to the city of Marseilles the priceless legacy of the last card-master: the Camoin Donation.
In 1998, one year before Marseilles' 26th centennial, Philippe Camoin, co-author the Tarot of Marseilles' restoration, opened again the Master Cardmakers' history book with the creation of a publishing house of the same name.
Annie Viale